Introducing the Fordson Theme for Moodle
A Moodle theme focused on going from login to learning with ease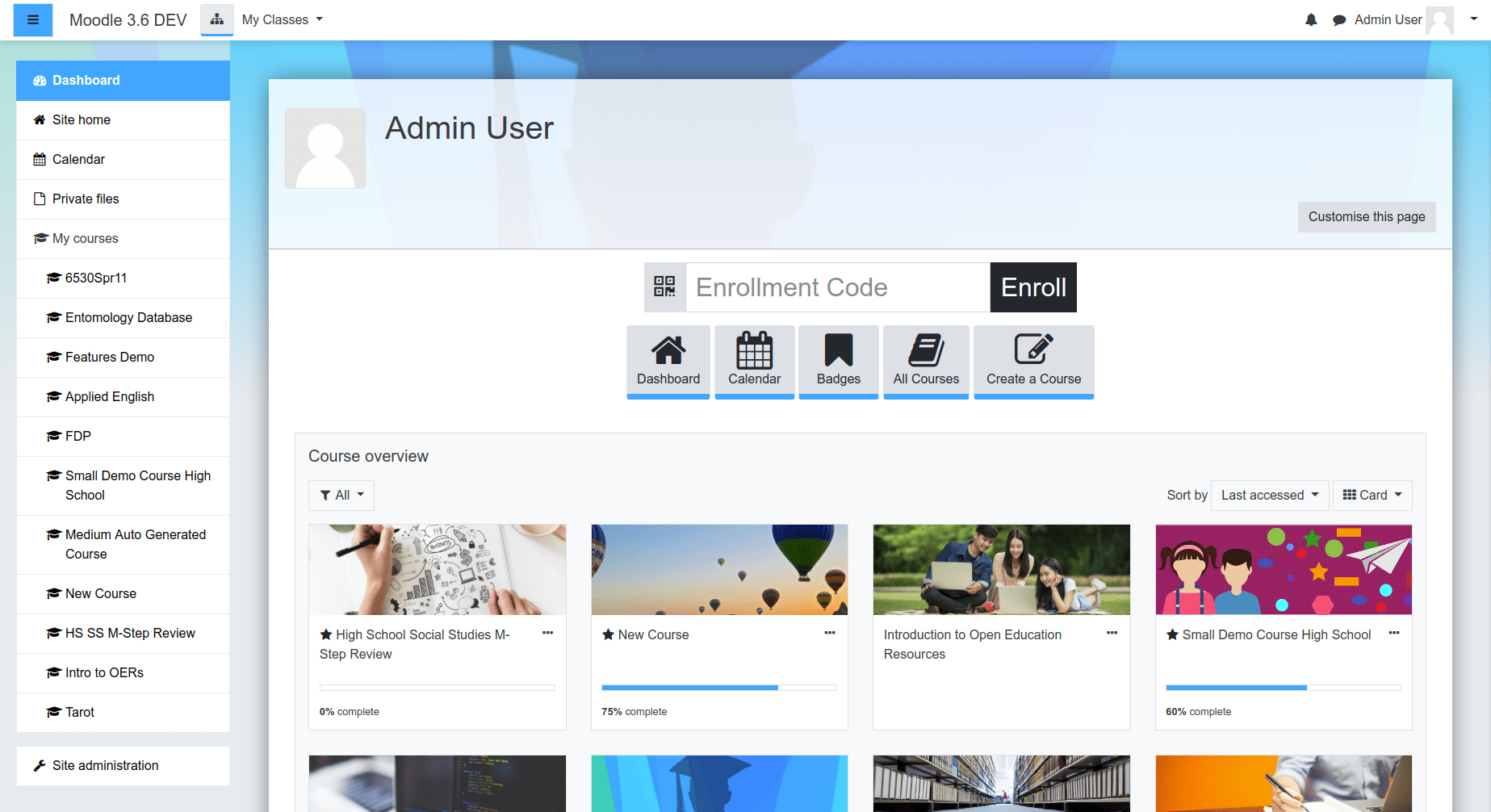 Clean, Modern, Personalized
Fordson sports a minimal design, clean interface, and a simple layout that focuses students on learning.
Enhanced Navigation
Take control of how your users navigate Moodle by utilizing Fordson's unique and targeted navigational enhancements.
Purposeful Design
Everything implemented into Fordson is designed for one purpose: To get students from the homepage to learning as quickly and efficiently as possible.
Plugin Set
Fordson and Easy Enrollment work in harmony to utlize 6 digit codes to enroll students quickly right from the homepage.
What is the "Big Picture"
Fordson is purposefully designed to go from login to learning as quickly as possible.
The way we approach implementation of Moodle is focused on how to go from login to learning as quickly as possible… with the least amount of distractions as possible.  That is why we designed the Fordson theme and Easy Enrollment Plugin to work together to handle this process.
Our goal and intent is a distraction-free and well-thought out plan for how a user will navigate and discover the learning material/courses.  Each and every item on the homepage that doesn't take the student to their intended goal of the teacher's course is a distraction. Students and teachers can quickly become overwhelmed by all the items they could click on to achieve their goal. That's why the Fordson theme and Easy Enrollment exists. We work to minimize distractions and things unneccessary for learning.
Once in a course the student will have clearly laid out access to learning materials and likewise, teachers will have clear access to course management tools.
Along with Fordson, we developed a new way for teachers to quickly enroll students right from the homepage.  We built the Easy Enrollment plugin which utilizes 6 digit codes as well as a QR Code reader(If desired) to streamline the process of getting students from the homepage of Moodle to your course.  Think Google Classroom in that the student enters the code and is instantly enrolled in a course.  The Easy Enrollment plugin generates an unique 6 digit enrollment code for every course and group within your Moodle site.  The Fordson theme display a form on the homepage to enter enrollment codes and it will also display a special link for teachers on their course page to see and manage all the enrollment codes. If you don't use the Easy Enrollment plugin the form will not display.
Fordson is designed to streamline the process of getting students engaged with learning quickly and as effiecently as possible.  It also implements many unique features that makes managing a course easier for teachers.
The Fordson theme is designed and built in Dearborn, Michigan.  Home of the first million dollar high school to ever be built in the United States.  We are a K-12 school district tasked with educating over 20,000 students.  The tool we use to educate these students must compliment a diverse student body with varying ages, language proficiency, and skill sets. With Fordson and Easy Enrollment we can go from login to learning in seconds with ease!
More than a Theme
The Fordson Plugin Set is more than a Moodle theme.  It is a set of plugins that provides a comprehensive learning environment that allows schools without technical expertise to install Moodle and our plugin set and get outstanding results with little effort.  We provide a very appealing and smooth user experience based on over 10 years of using Moodle in a K-12 school district with over 20,000 students.  We've thought about style, navigation, and student usage to build our main theme we call Fordson.  We extended Fordson with an incredible Easy Enrollment plugin which does amazing things.  It works much like Google Classroom by assigning unique codes to each course that a teacher can use to enroll students right from the Moodle homepage.  You can even enroll students by waving a QR code in front of a web camera!  Beyond all the user experience improvements and enrollment options we wanted to make sure teachers were assured students could not cheat on tests.  We created the iLearn Secure Browser which transforms Chromebooks into secure testing stations in which school administration can take control of where and what a student can do.  In 5 minutes you can deploy the App to every device in your Google for Education organization!  Safeguards such as controlling what websites a student can access and once they enter a quiz they cannot leave.  No popups.  No new windows.  The internet doesn't work beyond what the App will allow.  
All of this is designed to give teachers and students the best learning environment for free.  We want to see children learn with a tool that is sustainable long term without pressures of funding and price increases.  Our set of plugins will provide you with an amazing open source learning platform that is visually appealing and incredibly functional.  
Moodle Quick Setup Guide
This is a checklist and how we setup and configure Moodle for K-12 school districts.  It is a winning recipe for success in deploying Moodle for schools.  We use this checklist for supporting over 20 school districts with thousands of students.  It's not entirely complete and it is what we use and could be used as a model for what you should be considering when setting up your Moodle site.
Get Fordson
Quite possibly one of the best themes for Moodle with a clear mission and focus on getting students from the homepage to learning in seconds.  Get students learning and teachers building amazing courses with Fordson!
Get Easy Enrollment
Working in harmony with Fordson the Easy Enrollment plugin makes enrolling students super easy!  Teachers can pass out enrollment codes for their course and/or groups within the course and students can use those to enroll right from the homepage of Fordson. It doesn't get much easier!
Focused Homepage
Fordson's homepage is designed to get students enrolled and learning quickly.  Check out this overview of the Icon Navigation Bar on the homepage.
Easy Enrollment Integration
Getting students from the homepage to enrolled in a course is super simple with Fordson and Easy Enrollment.
SlideShow Feature
Use a simple slideshow to highlight courses and more!
Powerful Customizations
Fordson provides an amazing user experience out of the box.  For those who want to customize things, a powerful administration page awaits you! There is also over 5 different and unique presets that instantly change the look and feel of the entire theme!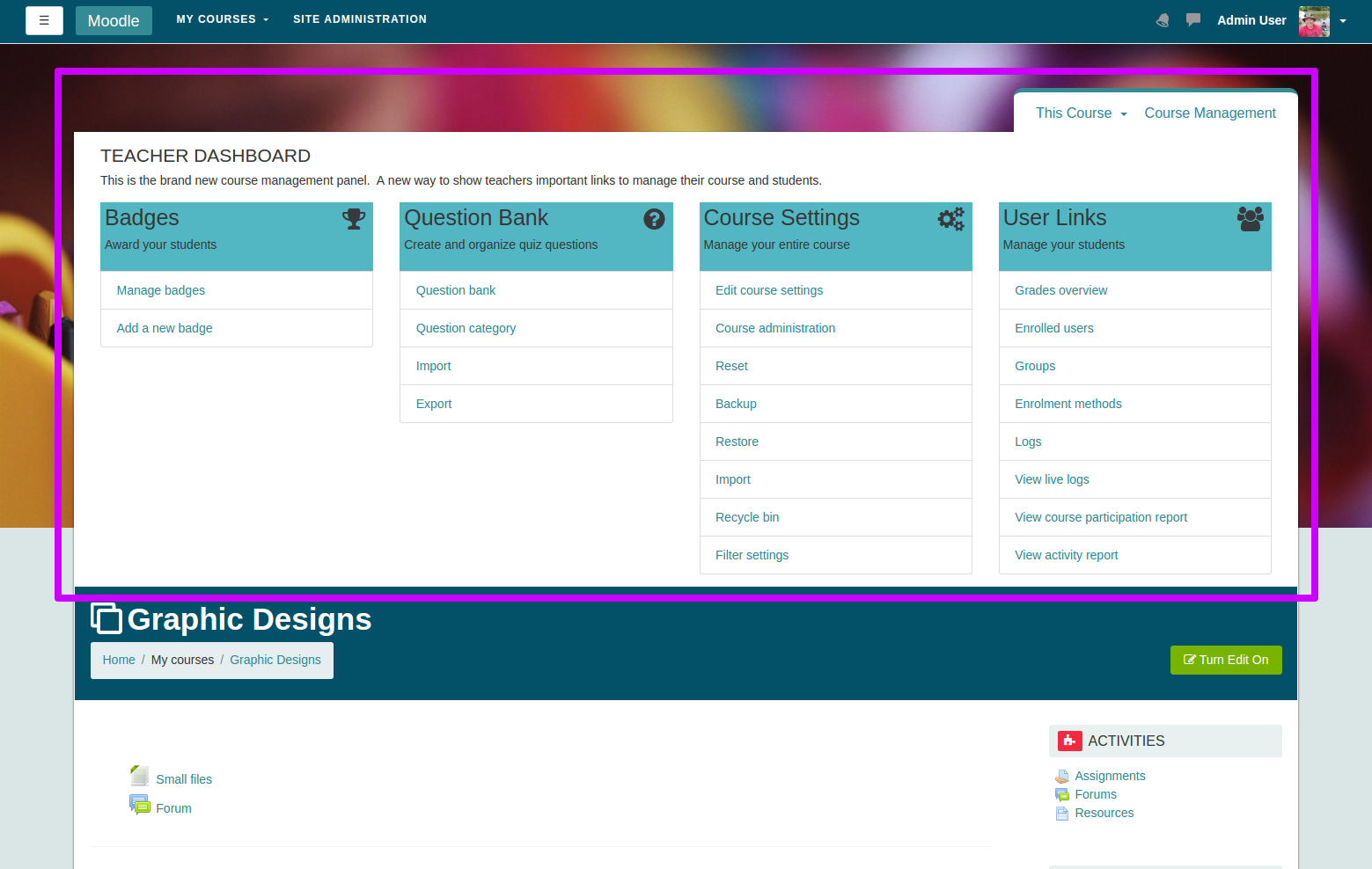 Innovative Navigation
Fordson integrates many navigation enhancements:
Homepage Icon Navigation Bar
Course Management Panel for Teachers
Customizable Boost Nav Drawer
My Courses dropdown for Students
This Course activity organizer
Clean and Simple Design
A minimal design with enahncements focused on learning.
Clean, single area of focus on course pages
Built upon Boost and ready for all screen sizes
Out of the box a refined and stylish appearance with little configuration required
One theme, two presets for customization