It started local and word is spreading… You need to see how Wayne RESA provides Moodle!
A unique blend of incredible design and functionality wrapped in powerful services that makes using Moodle district-wide easy, affordable, and a long-term tool teachers can rely on.
Blending Learning for All
What happens when you have a Moodle site that has been refined and designed with purposeful intent?  Well, you end up with an amazing learning tool.  This is exactly what Dearborn Public Schools did for our teachers and students. The end result is a powerful classroom tool that integrates with student gradebooks, district logins, and is focused on good pedagogy.  Wayne County RESA decided to partner with Dearborn Public Schools and utilize our Moodle expertise and through this partnership we worked together to bring our brand of "purposefully designed Moodle" to any district in Wayne County that wanted it for FREE.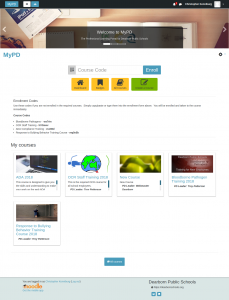 Purposeful Design
Our goal is to get a student from login to learning as fast and easily as possible.  We achieved this by developing one of the top Moodle themes in the world called "Fordson".  The theme is designed to help students focus on learning and not distract from that purpose with flashy and distracting elements.  We utilize space and color wrapped in a beautiful design to guide a student to the learning material.  However, we were lacking a simple and effective way for teachers to get the students from the homepage into their courses.  We developed a new enrollment process for Moodle to achieve the easiest way to get a student from the homepage to learning. We called it "Easy Enrollment" and it utilizes two methods of enrollment: a secret code or a QR code!  Yes, teachers can actually enroll students using Chromebooks by simply waving a QR Code in front of the webcam.  The other method uses a 6-digit random code that a student can enter right into a form on the homepage.  This 6-digit code will be very familiar to anyone who has ever used Google Classroom.
From the easily customizable login page to every aspect of the tool we have worked to streamline the effectiveness and usefulness for teachers.
A Recipe for Success
Wayne RESA is not just offering Moodle hosting.  They are doing Moodle right and they are wrapping some pretty important services around this project so that teachers and students can benefit from all that Moodle offers.   Here are the main things that make this an outstanding opportunity for local school districts in Michigan:
Login and using the tool is made easy by integrating with district accounts
Save teachers time by exporting grades into MIstar student information system
Configured and designed to look beautiful on any screen size by using the Fordson theme
Professional hosting for Wayne County School Districts for free
Speedy support and timely training
Wayne RESA is also taking this winning combination of service and know-how to help others across the state know what we've known for sometime: there is no better tool for long-term, affordable blended learning than Moodle.