What does our motto mean to us, "Focused on going from Login to Learning"?  It means we are hyper focused on the user experience that extends from the point of login until the student is engaged with learning in Moodle. 
What does that actually mean from a Moodle plugin? It means through our theme and related plugins we have looked at and spent time trying to develop a streamlined and intuitive way to go from the Moodle homepage to course content in a way that makes sense for our users.
We developed the Fordson theme to help with navigation and usability. We developed the Easy Enrollment plugin to help enroll students into courses directly from the Moodle homepage. And now, with the latest release of Fordson, we now have a special course format that we've enhanced through our theme to provide a great user experience at the course level. We are focused on going from login to learning and want to share that experience with the Moodle community. That's why we share our work as open source.
There is great power in Moodle. It's open source and you can use it to build a highly customized learning platform. That is exactly what Dearborn Public Schools has done by truly focusing on what happens in-between login and learning on Moodle. We took the time to plan and account for what we want teachers to do and what we want students to do once they login to our Moodle site.
That endeavor has led to the development and enhancement of several plugins. In this post we are going to focus on the the main three elements that get a user from login to learning: a theme plugin, an enrollment plugin, and a course format plugin.
The Fordson Theme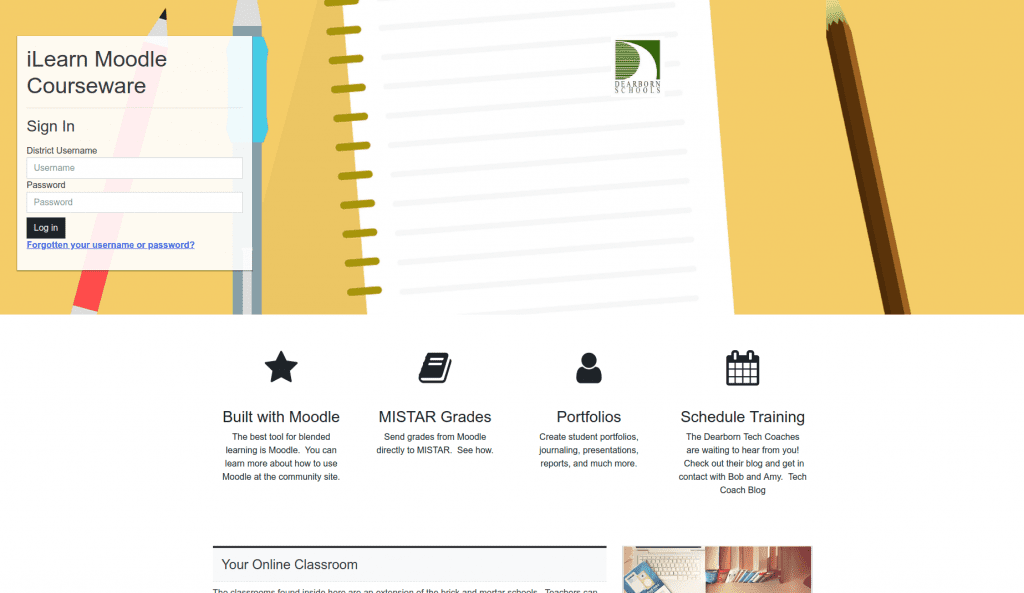 Our theme moves the bar beyond just appearance to focus on usability in ways only developers working directly with teachers can harness. We listen and enhance the Fordson theme based on direct feedback from K-12 teachers and students. It isn't perfect and there isn't one big feature that really makes Fordson shine. Instead, it is a culmination of a variety of small but significant improvements that continue to build and shape a vision. That vision is to go from the login page to learning materials in a course as easily, and frictionless as possible.
Get the Fordson theme here: https://moodle.org/plugins/theme_fordson
The Easy Enrollment Plugin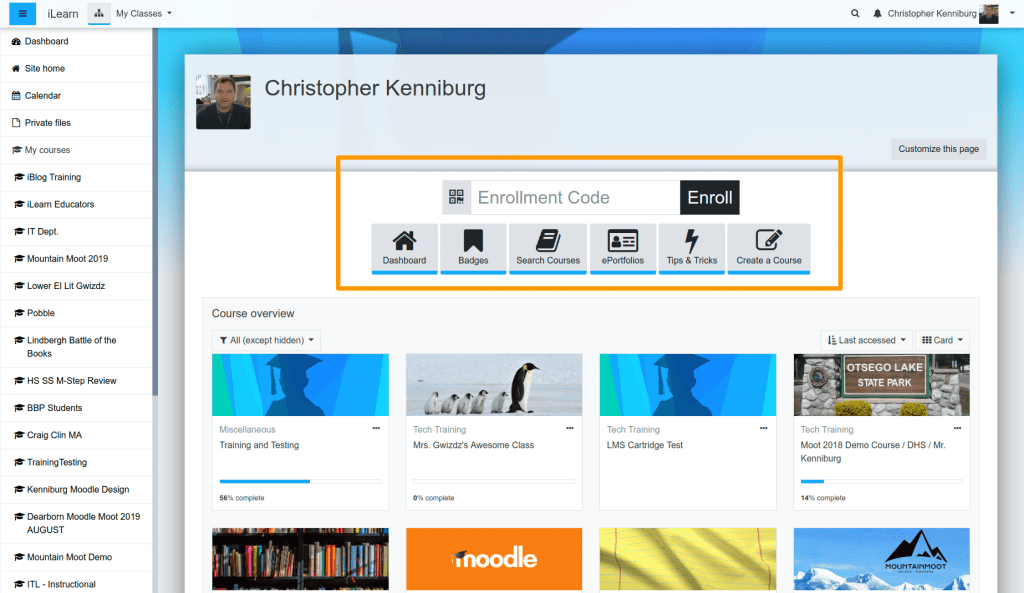 Once a user is logged in we want them to get into a course quickly and efficiently. However, we needed a better solution for K-12 and other areas where enrollment isn't able to be scripted or synced. Searching and trying to first locate a course before enrolling wasn't ideal with over a thousand courses. So we developed the Easy Enrollment plugin which is fully integrated with the Fordson theme to provide a seamless experience. The Easy Enrollment plugin puts a link on every course page for teachers to get and share a 6 digit code. On the Moodle homepage/Dashboard a new form appears that a student uses to enter in the 6 digit code. Once the student clicks the "enroll" button they are instantly enrolled and viewing the teacher's course. This is extremely effective and the quickest way to get a user from the homepage to enrolled in a course. We took it one step further though. We built in a QR code generator for the teacher to download and print a QR code and a QR Code reader which opens a webcam and will instantly enroll the student into a course based on the QR Code.
Get the Easy Enrollment plugin here: https://moodle.org/plugins/enrol_easy
Collapsible Topics Course Format
This plugin we cannot claim to have built but we are in love with it. This is developed by the wonderful Jean-Roch Meurisse of the Moodle community. The plugin is quite simple in what it does but it does it well and is extremely easy to work with. Each section or topic in a course can be toggled to show/hide all the resources and activities for students. This is wonderful at cleaning up a course homepage.
What's even better is that we worked together with the developer to add in a new feature which is a topic progress bar. This progress bar helps visualize for the student which topics need to have work completed. This is just one way in which we look to enhance the usability and functionality of Moodle by tightly integrating plugins to help meet our goals.
With our Fordson theme we took advantage of being able to override certain aspects of the plugin to take it even further with additional enhancements that can be turned on and off inside the Fordson theme. The teacher course is the final destination for students and this helps complete our mission of focusing on going from login to learning.
Get the Collapsible Topics Course Format here: https://moodle.org/plugins/format_collapsibletopics
What do I do now?
Learn more. Here are some videos and links to help further understand why using Fordson, Easy Enrollment, and Collapsible Topics is an outstanding setup for any level Moodle LMS.
Discussion on our Top Tech Tools to build a learning platform: https://moodle.org/mod/forum/discuss.php?d=358911
Video Showcasing the new Collapsible Topics Course Integration with Fordson
Video Showcasing Functionality of Easy Enrollment Plugin
Fordson Theme Overview Promo
Plugins to Get
Fordson Theme: https://moodle.org/plugins/theme_fordson
Easy Enrollment: https://moodle.org/plugins/enrol_easy
Collapsible Topics Format: https://moodle.org/plugins/format_collapsibletopics