Dearborn Public Schools uses Moodle to deliver training to employees.  We've built a highly customizable and extensive training platform called MyPD that allows employees to complete required certifications and mandatory training.  Badges are awarded upon completion of skillsets, courses, and activities.  Our training courses rely heavily on a few key features: Course and Activity Completion which allows for self-paced learning, Badges to signify completion, and reporting tools.
A few of the courses we require staff to complete are:
Bloodborne Pathogen Safety Training
ADA Compliance and Awareness Skills
Response to Bullying Behavior Training
Title IX Overview and Awareness
H5P Interactive Video
By choosing Moodle we are also choosing a wide assortment of plugins and add-ons that are readily available.  One such key plugin is called H5P which provides amazing functionality in a single activity.  It does everything from guided document writing to interactive videos.  The Interactive video functionality is what is most valuable for training.  With H5P we can require the video be watched in it's entirety.  We can stop the video and ask questions.  We can also make sure you cannot fast forward the video.  In order to progress in the course you must complete the H5P video activity which can require a score from the questions or just that you watched the entire video.  There are many uses for H5P in the classroom but in training we find the interactive video functionality second-to-none.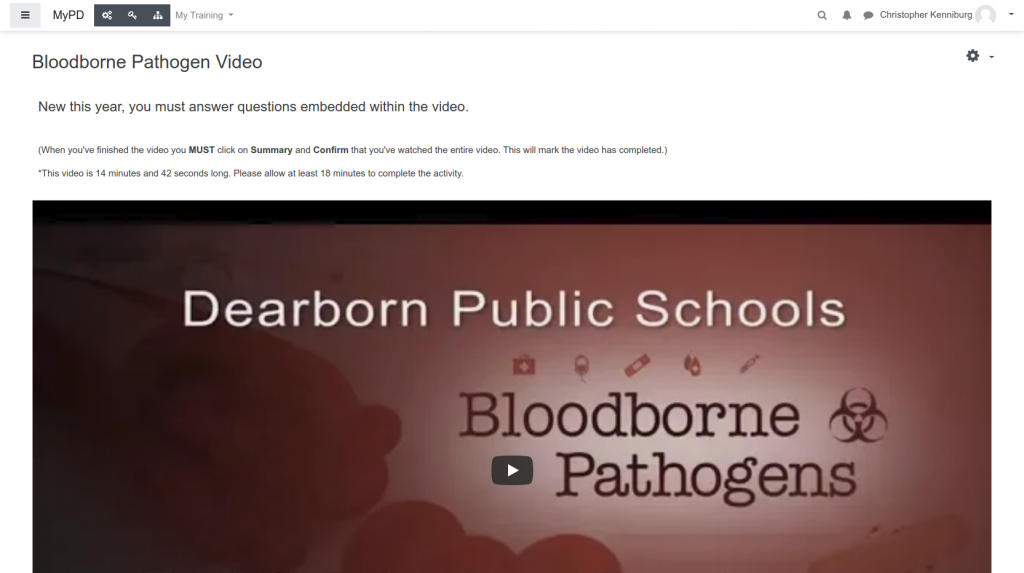 Badges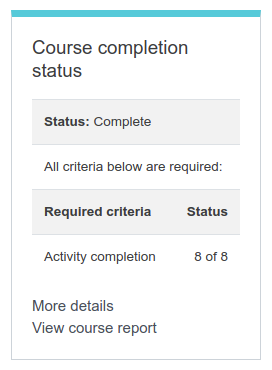 Staff members are awarded a special "Badge" when they complete the required activities within a course and they reach the end of the training module.  We choose to award a badge based on course completion but you could award badges for any number of criteria within the course.  This granular approach could allow for competency credentialing or other training needs.  Staff are required to complete several training courses every year to meet State and Federal laws and mandates and Moodle helps us deliver this training effectively to a very large pool of staff.
Course and Activity Completion
When operating self-paced training you will most likely want to control what the learner has access to and when they have access to that material.  Moodle has this built in and ready to go.  Turning on course completion for any course will allow you to set criteria for what the learner must do to mark an activity complete.  Sometimes it's as simple as marking an activity complete or it can involve participation in a discussion or earning a certain grade on a quiz.  Moodle makes it easy to show and hide course materials based on what the learner has completed.
Reporting
Robust reporting tools get the job done and provide visual and easy to track displays of what activities need to be completed by learners.  At a glance, administration can see and track employee progress through the course.  The reports can be downloaded in office spreadsheet formats such as Excel or Open Office.  Other reporting tools include the grade book where you can see quiz and lesson scores.  For employees who are not progressing or haven't completed certain elements of the course you can send out reminders.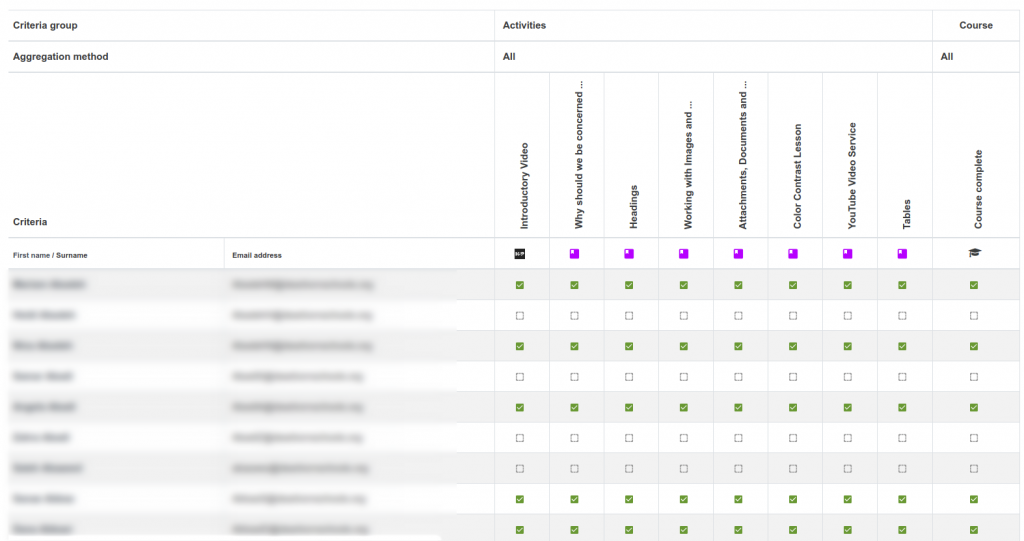 Keeping it Simple
We haven't even explored the Course Competencies which can be applied to a course and course activities.  This allows you to set certain competencies and associate theme with activities within the course.  When the activities are completed it marks the competencies completed for the learner.  The learner can see what competencies they have completed in their "learning plan" displayed on the Dashboard.  We like the idea of a simple badge to signify that the staff member has completed the requirements.  We may explore Course Competencies more in the future.