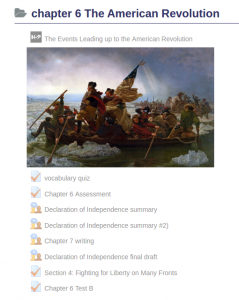 This is part one of a series as we will be covering a writing workshop where students peer review using a rubric.  The subject matter is the Declaration of Independence.
How do you go about trying to increase writing skills and expose students to writings from peers so that self-reflection can occur?  Well, if you are in Dearborn Public Schools you can setup a Writing Workshop found in Moodle.  There are three main reasons middle school teacher Scott Apple loves using the Workshop activity in Moodle:
Peer review using a rubric
Exposure to peer writing that is sometimes better than your own
Self-reflection on your own writing
The process of going through the Workshop activity is ultimately designed to expose students to better writing and self-reflect on how they can improve their own writing.  In the two years that Mr. Apple has been using the Workshop he has seen an acceleration of increased writing skills and engagement in both the planning and writing processes with his students.
The writing workshop is set to begin on October 31st, 2016 and we will be following along with screenshots, teacher insights, and student perspectives.  We will pick up with part two next week when students begin the planning and writing process.